Best Top 10 Treadmills For Home Use In India
It is a good idea to jog everyday as it helps in staying fit and healthy. Often it is hard to take out enough time for your fitness in between your busy schedule. A treadmill is a best exercise machines if you are looking to stay fit without having to leave your house, that enable you to run or walk in one place. A proper treadmill can only help you lose weight effectively and fitness into your daily life. A treadmill is a simple to use machine, it depends how you can use it. You can simply start with walking, or running. You can do a variety of cardio activities on it as well. Here, we will be reviewing Best Top 10 Treadmills in India and also guide you with things you need to consider while buying a good treadmill.
Benefits Of Using Treadmill?
Running on a treadmill regularly helps in increasing your joint flexibility.
When workout on a treadmill, it is easy to monitor heart rate, pulse, calories that burn, distance and the steps that you take.
It helps in building and strengthening of muscles.
Increase speed and intensity to the run will enable you to burn more calories.
Buying a treadmill can be quite a challenge. One has to look at several aspects. We have compiled a list of the best Motorized treadmills available in India. Also, we have covered the details of all those models to make your buying decision easier. To help you decide which treadmill to buy, we have compiled a list of the best treadmills. Also, you can find Best Manual Treadmill To Buy in India.
Find Below Best 10 Top Treadmills
1. Powermax Fitness TDM-97 (1.5HP) Motorized Treadmill
The PowerMax Fitness TDM-97 is a compact motorized treadmill that is powered by a 1.5 HP. TDM97 a maximum weight capacity of 90 kg and can be folded easily when not in use. It offers a speed range of 1 km per hour to 10 km per hour. Treadmill with 12 pre-set workout programs and 3 target-based modes. It comes with a built-in Hi-Fi speaker to play music from iPhone/MP3 player using AUX cable connection. It features a heart rate sensor on the handle grip that continuously monitors your heart rate during the workout.
Key Features
5.5″ LED Display – Speed, Time, Distance, Calories burned and heart rate
Max User Weight: 90KG
1.5 HP DC motor
Foldable treadmill
Heart rate sensor on handrail
Auto Stop Safety Function
Wheels for Easy Transportation
Warranty : 3-Year Motor, 1-Year Parts, Labour
Pros
Compact machine with foldable design features
An ideal device for walking and running at speeds around 8 km/hr
Provides full value for money
Easy installation
Best price range
Great for both walking and running
Most Selling Treadmill in India
Cons
---
2. PowerMax Fitness TD-M1 2HP (4HP Peak)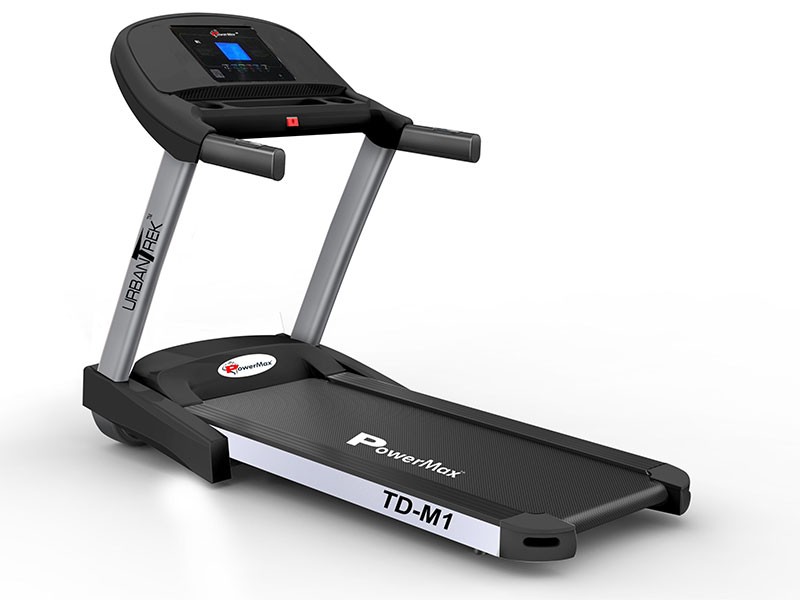 Powermax is another best and leading brand in the supply of treadmills and other fitness equipment in India. This treadmill, the TD-M1 is an ideal one for people of all ages. The machines are equipped with various technologies and features so that you can enjoy a workout at your convenience. This Treadmill features a 10cm LCD display to indicate speed, time, calories burned, heart rate, mode, preset programs. It contains an AUX input that helps to hear songs from your iPhone or MP3 player. Also provided with an Aux port for your external gadgets connection. It has a maximum user weight capacity – 100 Kg. The user-friendly controlling options allow you to set the speed according to your requirements.
Key Features
Plug & Run Treadmill – No Assembly Required
LCD Display – Time, Speed, Distance, Heart rate, Calories, Program
Max User Weight 100KG
Connect Treadmill via Bluetooth with Android & iOS App
Large Running Surface (L x W) – 1210 X 410mm
Warranty : 3-Year Motor, 1-Year Parts And Labour
Pros
Good Motor capacity
Display features, and Auxiliary features.
This machine has enough running space, and also keep your water bottle and mobile phone.
Spring shock absorbers.
The hydraulic folding feature is a cool one.
Android & iOS App Support
3-Year Motor Warranty
Cons
Could be with an Auto inclination
---
3. Fitkit FT98 Carbon Motorized Treadmill
The Fitkit FT200 series treadmill is a best exercise equipment for those who want to start their fitness journey. The 1.25HP DC motor is an energy-saving device. Besides, this machine makes as little noise as possible. It has a maximum weight capacity of 90kg and 12 preset workout programs for efficient workout and changeable modes to create customized route of exercises. The hydraulic soft drop system (HSS) folding mechanism will assure the sale and hassle-free folding or unfolding every time.
Key Features
LED display showing speed, time, distance, calories burned.
Suggested weight 90kg
Maximum speed 0.8 to 14kmph
Fitplus App available on Android & IOS platforms.
Warranty details: 1 Year warranty on Motor
Pros
Cushion effect with nich shock absorption
One of the most comfortable treadmills to use
Affordable and well built
Reliable and silent working motor
Cons
Does not have an incline feature
---
4. Healthgenie 3911m Motorized Treadmill
Healthgenie is one of the good brands to supply of Health and fitness products. This treadmill built with stable steel frames for longer durability. It's a home-based motorized treadmill. The average power of the DC motor is 1.0 HP. The highest power of the motor is 2.5 HP. It can support of 95 kg maximum user weight. You can get here 3" Display with LCD Display that allow you to read easily all the essential workout feedback like speed, distance, calories, & pulse. This foldable treadmill comes with transportation wheels that support to transport the treadmill from one place to another.
Key Features
Motor Power 1.0 HP DC Motor (2.5 HP at Peak),
Foldable Treadmill
LED display shows Time, Distance, Speed, Calories burned, Heart Rate
Wheels for easy transportation,
Warranty
Pros
Best suitable for beginners
Weight capacity of about 100 kg
Good additional and auxiliary features are provided
Good sound quality with mp3 speakers
DIY installation saves time and money
Cons
The treadmill is a bit noisy in comparison to its peers
Not ideal for heavy users
---
5. Cockatoo CTM-05 Steel 2 HP Peak Motorised Multi-Function Treadmill
Cockatoo CTM-05 is a motorized multifunction treadmill for home use. User-friendly features will make your workouts easy and convenient. It does not come with any inclination but has a thick belt of 1.4 mm thick. It has an electrometer 5-inch display that displays the speed, time, calories burned, and distance. The treadmill comes with transportation wheels by which you can quite easily port the machine. Its comes with a motor capable of delivering a peak output of 2 HP.
Key Features
Motor 2 HP DC motor at its peak
Max User Weight 90 Kg,
AUX input Support
Foldable & Moveable, Easy Installation
LED Screen; Console displays Time, Speed, Distance, Calories burnt
Pros
Sturdy design with good stability
User Weight capacity of about 90 kg
Easily foldable and moveable.
Cons
Consume more electricity
No incline facility
---
6. Durafit Spark 1.25 HP DC Motorized Treadmill
Durafit Spark treadmill is one of best for walking and running at your home in India. Treadmills design & looks are fantastic, and it gives you a premium looking feel. The Durafit Spark best for home use because of the durable and noiseless motor. It's come with 1.25 Horse Power motor. It is good enough for walking and running exercise for beginners. The motor of this treadmill is of 1.25 HP, and when it is at its peak output, it gives a power of 2.5 HP. This treadmill has an auto-folding feature.
Key Features
Display Monitor Shows Time, Distance, Speed, Calories burned, and Heart Rate.
Maximum user weight 95kg
1.25HP CHP DC Motor (2.5 HP Peak Output)
AUX input and Aux Cable, 12 Preset programs
Easily fold and unfold your machine.
3 Years Warranty on Motor
Pros
Heavy Duty Frame Material
Wide LED display
Heart Rate Sensors
Good look & feel
Cons
No Music Speakers
No incline feature
---
7. Powermax Fitness TDM-100M (2.0HP)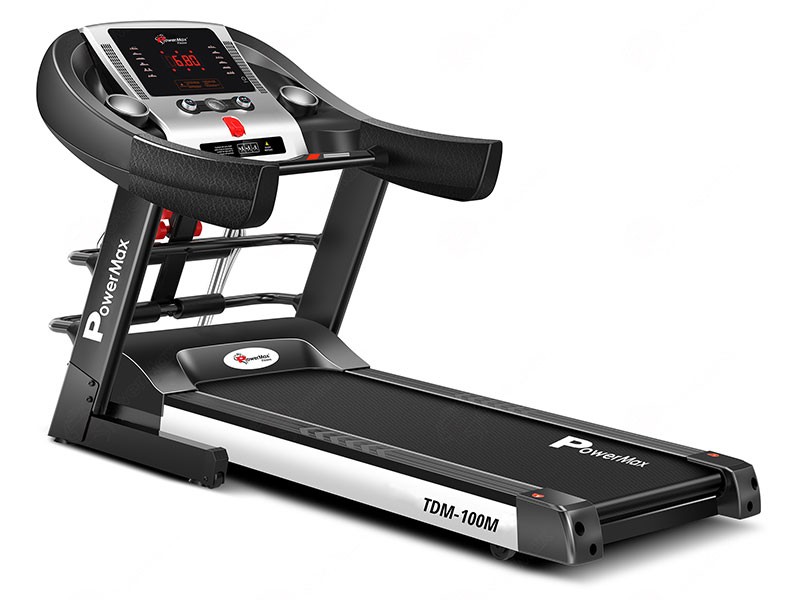 Powermax Fitness TDM-100M is one of the best heavy-duty treadmills for home use. Exercising at home should never be an issue when you have the PowerMax Fitness TDM-100M treadmill as your trusted companion. This machine is equipped with a multifunction utility, which includes a powerful massager and sit-up bracket. Its Maximum weight capacity 105kgs and other features will impress you. You can always monitor real-time speed, time, distance, and calories burnt on the 5″ LED display. This is the best price treadmill for home instead of going to the gym for cardio exercise. It also features like iPad, water bottle holder. TDM-100M treadmill equipped with Android and iOS app support features. It has a Semi-Auto Lubrication feature that makes the maintenance job simple, clean, and easy.
Key Features
5″ LED Display – Speed, Time, Distance, Calories and Heart rate
Maximum user weight capacity 105 Kg
Dual spring shock absorbtion with double layer running board.
6-Level Manual Incline for intense workout
Warranty: 3 Years on Motor and 1 Year on parts & Labour, Lifetime Frame
Multifunction: Massager & sit-up bar.
Semi-Auto Lubrication for Easy Maintenance
Pros
Installation is very easy.
Best display and auxiliary features
This treadmill is easy to disassemble and reassemble
Good running surface area
3 Year Motor Warranty
Cons
---
8. Lifelong FitPro LLTM09 (2.5 HP Peak) Motorized Treadmill

Lifelong FitPro LLTM09 treadmill is a budget friendly beginner level motorized. This Treadmill is easy to set up and use anywhere. Lifelong FitPro is a surprisingly good product for its price. It's come with 12 pre-set workout programs to set variable exercise mode for weight loss training. This motorized treadmill that has a peak 2.5 horsepower motor capable. It is perfect for people who live in small areas and need to get a quick jog.
Key Features
LCD monitor with Time, Speed, Distance, Calories, Pulse Rate
Emergency stop key with smooth stop system
Anti-skid rubber surface with a high-density belt
3-Year Motor Warranty
Pros
Excellent display
Running belt has anti-skid surface
Foldable with wheels for easy transportation
Heart Monitoring
Cons
No option for inclination
---
9. MAXPRO PTM405 2HP (4 HP Peak) Folding Treadmill

If you are looking for a good treadmill at an affordable price, MAXPRO PTM405 one of the best-rated treadmill in India in the price range of 30K. It is a strong and powerful treadmill from the popular brand Welcare. It has a 2.0 HP (4 HP Peak) DC quiet motor that delivers power for interval, speed, or endurance training. The maximum user weight capacity of this treadmill is 110 kg. LCD with a screen 5 inches to track 12 workout programs provide you with a more intense workout. The multi-layered running belt reduces sudden shocks.

Key Features
5" Blue LCD display, Display reading – Hand Pulse,
Mobile & tablet holder for safe keeping your smart devices
Wheels for easy transportation
Max user weight 110kg
USB Port, MP3 Speakers
Pros
Nice weight support
Folding design
3 level manual inclination
Multiple mode support
Cons
Manual inclination.
Sales service is not so impressive.
---
10. PowerMax Fitness TDM-98 Motorized Treadmill
PowerMax Fitness TDM-98 one of the most selling treadmill in India. With this high-quality, foldable and easily operated treadmill, you can easily convert your home into a running track. Treadmill comes with 5.5" Large LED display monitor becomes easy for the users to check the distance, time, pulse, calories and incline levels. This treadmill is equipped with built-in speakers, aux input support & USB hub. The 1.8mm polyester satin and multi-layered running belt ensures reducing the chances of slipping and reduces shock. The treadmill comes with auto stop functionality for users stay safe and secure. Since most of the part of the treadmill has been offered pre-assembled.
Key Features
Large 5.5″ LED Display = Speed, Time, Distance, Calories burned and heart rate
Heart Rate Sensors on handrails
Foldable 90 degree
MP3 Speakers, USB, AUX and Aux Cable,
3 Years Warranty on Motor
Pros
Anti-skid platform
Easy to Assemble
Easily to Foldable and Transported
Heart rate Sensor
Cons
---
Conclusion
If you are interested to buying a Treadmill for home use, then there are machines with a wide range of features and prices are available in the market. Searching and knowing for the best Treadmill is a very difficult and time-consuming job. Some basic knowledge about this fitness equipment will help to select the right product. We hope our this Treadmill Guide can save a lot of your search time and make the buying decisions easy. We reviewed many treadmills and filtered Top 10 Branded Treadmill in India within an affordable price range and features. This will help to select your best machine to suit individual choice, space availability, affordability and many more.